A significant number of primary interviews were conducted from both the demand (life science instruments suppliers, vendors, and distributors, personnel from hospitals & diagnostic labs, academic and research institutes, and environmental testing labs) and supply sides (presidents, CEOs, vice presidents, directors, general managers, heads of business segments, and senior managers).
The primaries interviewed for this study include experts from the life science instrumentation industry, such as CEOs, VPs, directors, sales heads, and marketing managers of tier 1, 2, and 3 companies engaged in offering life science instruments across the globe; administrators and purchase managers; and academic research institutes.
Secondary research was used to identify and collect information useful for the extensive, technical, market-oriented, and commercial study of the life science instrumentation market. A database of the key industry leaders was also prepared using secondary research.
Download PDF Brochure @ https://www.marketsandmarkets.com/pdfdownloadNew.asp?id=38
Market Size Estimation
The market size estimates and forecasts provided in this study are derived through a mix of the bottom-up approach (segmental analysis of major segments) and top-down approach (assessment of utilization/adoption/penetration trends, by technology, application, end user, and region).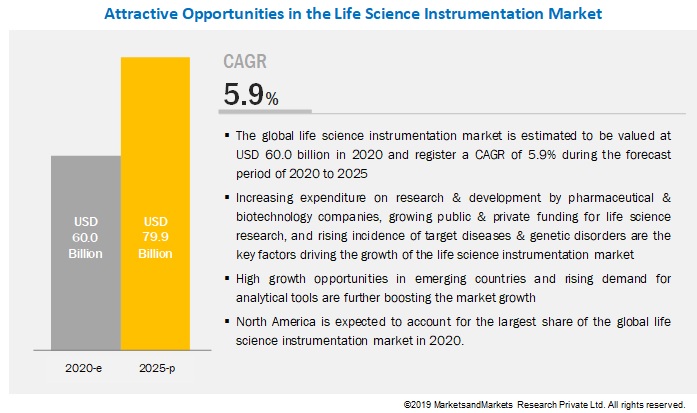 Increasing expenditure on research & development by pharmaceutical & biotechnology companies, growing public & private funding for life science research, and rising incidence of target diseases & genetic disorders. The emerging markets and increasing demand for analytical instruments are expected to present avenues of growth for market players.
The next-generation sequencing (NGS) segment is expected to grow at the highest CAGR during the forecast period, attributed to the advantages offered by NGS technologies in DNA sequencing, which substantially provides more throughput and minimizes the need for fragment-cloning methods. In addition, continuous technological advancements and the increasing availability of cheaper sequencing platforms is expected to fuel the growth of life science instrumentation market during the forecast period.
Key Market Players
The vendors operating in the global life science instrumentation market include Agilent Technologies (US), Becton, Dickinson, and Company (US), Bio-Rad Laboratories, Inc. (US), Bruker Corporation (US), Danaher Corporation (US), Eppendorf AG (Germany), GE Healthcare (US), Hitachi High-Technologies Corporation (Japan), Horiba (Japan), Merck KGaA (Germany), PerkinElmer, Inc. (US), Qiagen N.V. (Netherlands), Shimadzu Corporation (Japan), Thermo Fisher Scientific, Inc. (US), and Waters Corporation (US).