The rising geriatric population (and the subsequent increase in the prevalence of chronic diseases) is a key factor driving the growth of this market. The shift from volume- to value-based care, delays in drug development (and the subsequent increase in development costs), growth in R&D spending, and support from regulatory bodies for the use of RWE solutions are some of the other major factors that are driving the growth of this market.
[215 Pages Report] Real-world data and real-world evidence are used to monitor the post-market safety and adverse events of drugs. The monitoring of this data assists in making regulatory decisions. The healthcare community is using RWE and RWD to support coverage decisions and to develop guidelines and decision support tools for use in clinical practice.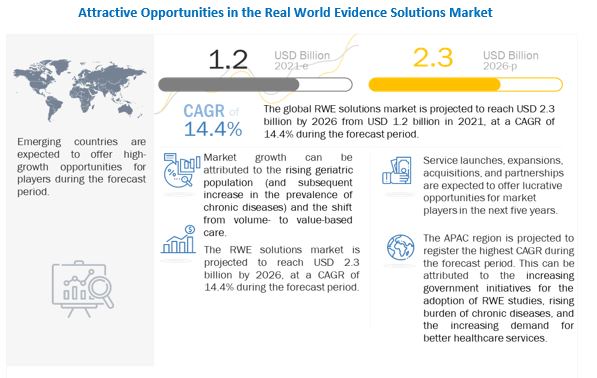 The emergence of this pandemic has posed severe financial constraints on pharma-biopharma companies in several countries. In this regard, RWE solutions have proven to be very helpful, as they allow industrial and academic researchers to monitor patients using digitally connected platforms while helping to organize and evaluate clinical data for regulatory submissions.
The uncertainty brought on by the COVID-19 pandemic has dramatically shifted how and when patients decide to seek medical care. In addition, shifts in healthcare coverage and provision during the pandemic have changed the discovery and reporting of certain outcomes in data and the treated population. This means that disease trends may lead to incorrect interpretations when RWD and RWE are not framed in the context of the pandemic and long-term COVID-19 disease, therapy, and lifestyle changes.
Download PDF Brochure @ https://www.marketsandmarkets.com/pdfdownloadNew.asp?id=76173991
RWE is set to become the most influential emerging technology to help in the fight against the COVID-19 outbreak, according to the latest poll on GlobalData's Pharmaceutical Technology website. In this poll, which was completed by 935 of its readers in April 2021, more than one-third of the respondents indicated that RWE would have the greatest impact on the management of COVID-19. A smaller percentage of the readers identified telemedicine (28%) and artificial intelligence (20%) as the most important emerging trends.
Even though emerging technologies, such as telemedicine, have existed for decades, most of healthcare systems rely heavily on in-person interactions between patients and clinicians. Nevertheless, the current requirement for social distancing measures is swiftly pushing the primary care provision toward remote care.
RWE can provide valuable insights to better understand, monitor, and prepare for the challenges caused by outbreaks such as the COVID-19 pandemic. The utilization of RWE in infectious disease control is not a new concept. During the Ebola outbreak in 2014, forecasters successfully used Global Epidemic and Mobility (GLEaM) simulations that combined real-world data on populations and their mobility with rigorous stochastic models of disease transmission to predict the global spread of the disease.
Several companies are prioritizing the use of RWE to improve hypothesis development/trial design and accelerate trial recruitment. For instance, in January 2020, IQVIA (US) collaborated with AP-HP. This collaboration helped IQVIA to increase complex clinical trials and real-world evidence studies within France and Europe.
With almost 80% of clinical trials failing to meet their initial enrollment projections, delays in patient recruitment can cripple a trial and R&D program. Healthcare providers are increasingly investing in health information technologies, which is permitting them to better track and connect with patients. Hence, patient trial enrollment can come to the point of care.
Key Market Players
Prominent players in the real world evidence solutions market include IQVIA (US), IBM Corporation (US), ICON plc. (Ireland), PAREXEL International Corporation (US), PPD, LLC (US), Optum, Inc. (US), Cognizant Technology Solutions Corporation (US), Oracle Corporation (US), SAS Institute Inc. (US), Syneos Health, Inc. (US), Anthem, Inc. (US), Clinigen Group plc. (UK), Medpace Holdings Inc. (US) and Flatiron Health, Inc. (US).